Best Compact Binoculars for 2023
Introduction
I love moving up closer to get a better view, taking it all in, when I'm just looking at the big rollers coming in off the Atlantic from the balcony, or out and about hiking on the trails. Observing and appreciating more than the naked eye can reveal. Hence binocular reviews 2023 are particularly interesting and relevant.
So it's a good time to consider some possible candidates for the best compact binoculars for 2023.
Compact binoculars are a fantastic and convenient way to enhance the experience. They add so much to the occasion for anyone who wants to get a closer, more detailed look at the interesting sights around them.
We might be out for a healthy trail walk, bird watching, or just enjoying nature up close from some vantage point that doesn't impose. Having lightweight binoculars with good image definition, brightness and magnification add so much to the pleasure of our interests and hobbies.
And frequently, while on the trail for example, they also become useful tools and aids in picking up trail markers and details we might otherwise miss.
Towards the end of this article I talk a little about the binoculars I own and what my use cases have been. [top …]
Availability of Brands and Types
There are so many different options on the market today. Hence it can be hard to know which ones provide the best quality, functionality, and value, for your money. Or we may be looking for a top-tier model with price being less of a consideration.
However there are a few features which are key to any level of performance from compact binoculars. So we'll discuss things like magnification power, lens size, and construction materials as well as tips on choosing the right pair for you.
The models presented here all have well-known brands with a strong pedigree and verifiable in-depth expertise behind them. They are not just cookie-cutter rip-off replicas outsourced to some low-cost mega-mass-producer based on volume and cheap labour. [top …]
Optics Configurations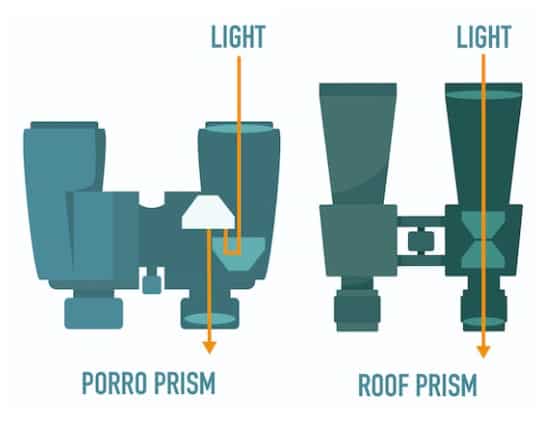 There are two main configurations of binocular. These are Porro-prismed, and roof-prismed. We will just compare a few of the key features without going into too many technicalities.
Porro-prismed binoculars are bulkier, less sturdy and normally heavier than roof-prismed binoculars. The main reasons being the roof-prism arrangement allows more compact internal optics and shock-sensitive parts are better protected.
I'll come back to the 'sturdy' issue further down, with an unfortunate personal example.
Some say Porro prisms provide better clarity and field of view. The clarity issue is moot as modern optics and coating technologies have made any difference that might have existed imperceptible. The field of view issue has never bothered me either, and I have owned both types. Not a clincher for me either between the two types.
Wrapping the prism issue up then, we will therefore only be looking at roof-prismed binoculars. The factors in their favour being less bulky, more robust, and normally lighter.
We will also be considering only 10x image magnification. Some sources suggest 10x is difficult to control due to image shake, touting 8X as a better compromise. I disagree. In addition to other features, we need good image magnification for the best view. I'm 70 years old and have no problem holding the 10x steady. Hence it would be my choice.
So let's get started with looking at a selection of the best compact binoculars generally available today. [top …]
List of Compact Binoculars Compared
Zeiss SFL 10×40
SIG Sauer Zulu 7 10×42 MM HDX
Leica Noctivid 10×42
Nikon Monarch M7 10×42
Celestron Nature DX ED 10×42
Athlon Midas G2 UHD 10×42
Leitz Metzler Trinovid 10x40B
Which Is The Best Compact Binoculars Pair?
I consider the two factors from earlier, roof-prismed and 10x magnification, and one other, either 40mm or 42mm objective lenses to be the most suitable in compact binoculars. A 42mm lens makes binoculars a bit heavier overall, but gathers about 10% more light than 40mm. In terms of objective lens size, smaller than 40mm would constrain performance in low light conditions too much, and bigger would add too much bulk and weight to the binoculars.
The other factors in choosing the winner are:
And the choice is ……
The reasons for the choice are as follows …
SIG Sauer has an excellent track record and is a highly respected brand in the critical equipment space
They have a well-established and excellent reputation for quality and performance under hostile conditions across their entire product range
Their warranty is completely bulletproof
The performance balance of the binoculars in terms of optics technology, weight, durability, field of view, and close-focus is outstanding
All this at a reasonably affordable price
It is a brand that would be readily recognised by knowledgeable people in the space and I would be proud to own this product [top …]
Overview of Each Pair of Binoculars
Zeiss binoculars are a premium quality and performance product from a premier international technology company and prestige brand. Optimised to be as lightweight and compact as possible. Magnesium alloy housing for durability and lightness. Advanced Zeiss T* multicoated optics for maximum image clarity and definition under challenging circumstances. Carefully optimised ergonomics for ease of use, even with gloves. Excellent transferable limited lifetime warranty, see brochure. Neck strap is extra.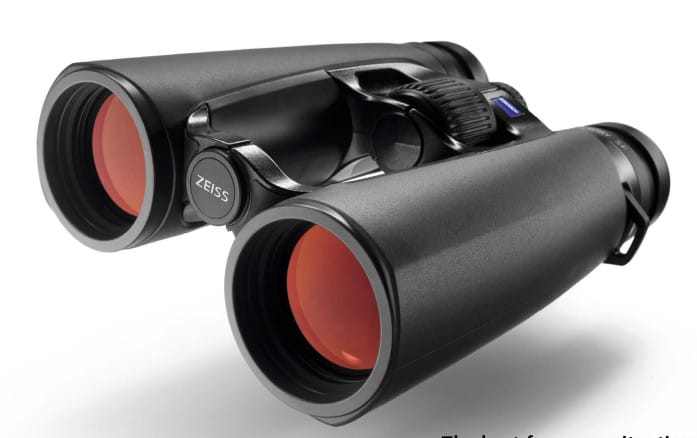 | | |
| --- | --- |
| Optics | Zeiss T* Multicoating |
| Objective Lens | 40mm |
| Light Transmission | 90% quoted |
| Field of View | 115m (345ft) at 1000m (yds) |
| Close Focus | 1.5m (5ft) |
| Weight | 640g (22.6 oz) |
| Water / Fog Proof | Yes |
| Warranty | Transferrable Limited Lifetime and Transferrable 5-Year No-Fault Policy (See brochure for details) |
| Price | USD1800 quoted online (and on Amazon.com) [top …] |
---
SIG Sauer is a well-known and highly reputable international company in the arms and ammunition space. That reputation is carried over to their SIG binoculars, coming from their Electro Optics division. These are rugged, premium, short-to-long range open-hinged binoculars. Constructed with a magnesium alloy housing covered with durable rubber armour for protection and non-slip grip. The package includes tethered lens cover, strap, lens cloth, and padded case. Comes with the SIG Sauer Unlimited Lifetime Guarantee.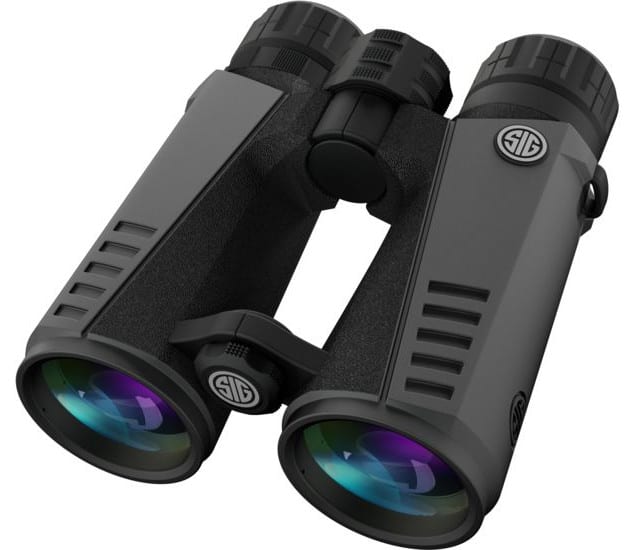 | | |
| --- | --- |
| Optics | SPECTRACOAT Broadband Anti-Reflective Lens Coatings |
| Objective Lens | 42mm |
| Light Transmission | Not quoted |
| Field of View | 115m (345ft) at 1000m (yds) |
| Close Focus | 1.8m (5.9ft) |
| Weight | 950g (33 oz) |
| Water / Fog Proof | Yes |
| Warranty | SIG Sauer Unlimited Lifetime Guarantee (See manual for details) |
| Price | USD600 quoted on Amazon.com [top …] |
---
The Noctovid is a new family of premium binoculars from the prestigious Leica binoculars brand. Leica has more than a century of experience in optics excellence. Magnesium alloy housing with durable rubber armour coating for protection. Leica claims the Noctivid offers an impressively natural viewing experience, with the stunning image plasticity of the human eye – only much larger. Image plasticity means the quality of depicting space and form so that they appear three-dimensional. The package includes neoprene carrying strap, contoured eyepiece cover, protective front lens cover and Cordura case. Online sources indicate Leica provides a lifetime warranty against manufacturer's defects and a 3-year accidental damage cover plan with specific conditions.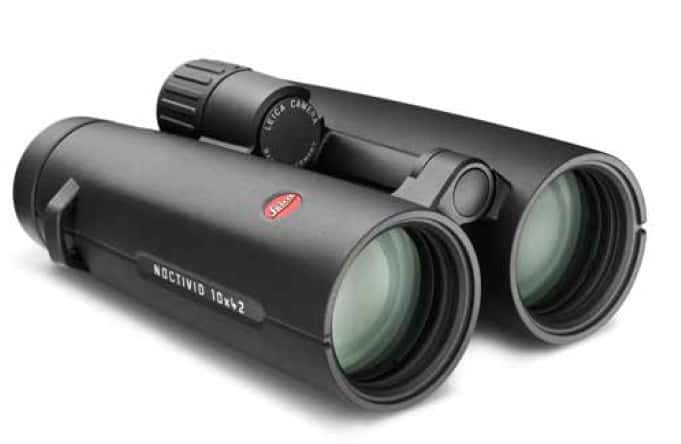 | | |
| --- | --- |
| Optics | HDC® Plus-multicoating and AquaDura® lens coating |
| Objective Lens | 42mm |
| Light Transmission | 91% quoted |
| Field of View | 112m (336ft) at 1000m (yds) |
| Close Focus | 1.9m (6.2ft) |
| Weight | 862g (30.4oz) |
| Water / Fog Proof | Yes |
| Warranty | Lifetime Warranty against manufacturing defects and limited accidental damage warranty. Details provided with the product package. |
| Price | USD2850 quoted on Amazon.com [top …] |
---
These great binoculars were released by Nikon Vision Company in July 2016. Magnesium alloy body has durable rubber-armoured covering for protection and non-slip grip. Lens configuration provides a wide field of view. Optics glass type and coatings provide clear high-resolution views in nearly any lighting condition resulting in brighter images and more natural colours. Package includes soft neck strap, objective lens caps, eyepiece cap and soft case.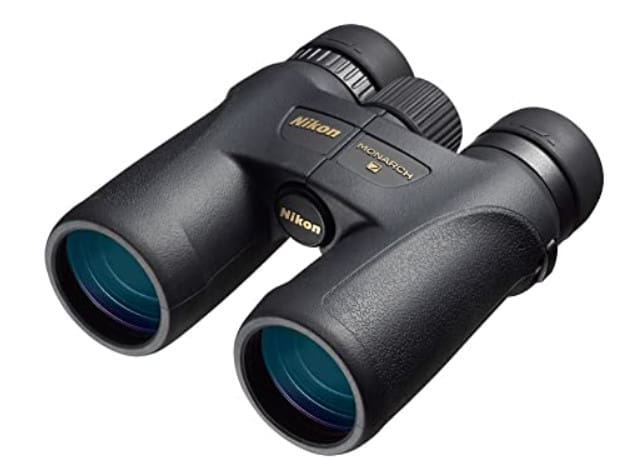 | | |
| --- | --- |
| Optics | Eco-friendly multilayer coating quoted |
| Objective Lens | 42mm |
| Light Transmission | 92% or higher quoted |
| Field of View | 121m (362ft) at 1000m (yds) |
| Close Focus | 2.0m (6.6ft) |
| Weight | 680g (24oz) |
| Water / Fog Proof | Yes |
| Warranty | Non-transferable Nikon Worldwide Service Warranty for 1 year from date of purchase. Proof of purchase and Nikon Worldwide Service Warranty Card required. Accidental damage not covered by Warranty. |
| Price | USD450 quoted online [top …] |
---
Celestron started making astronomy telescopes in 1960 and developed a strong reputation worldwide for quality and innovation. They have been manufacturing binoculars and spotting scopes for more than a decade now.
Versatile, all-round binoculars for capturing close-up view of the action while offering good levels of brightness and detail. The optics use ED glass which virtually eliminates chromatic aberration and produces bright, crisp images at a lower price point. Full multi-coating of the optics also provides high levels of light transmission through the binoculars. The housing is rubber-armoured polycarbonate to minimise weight. Package includes neck strap, objective lens caps, rain guard and carrying case.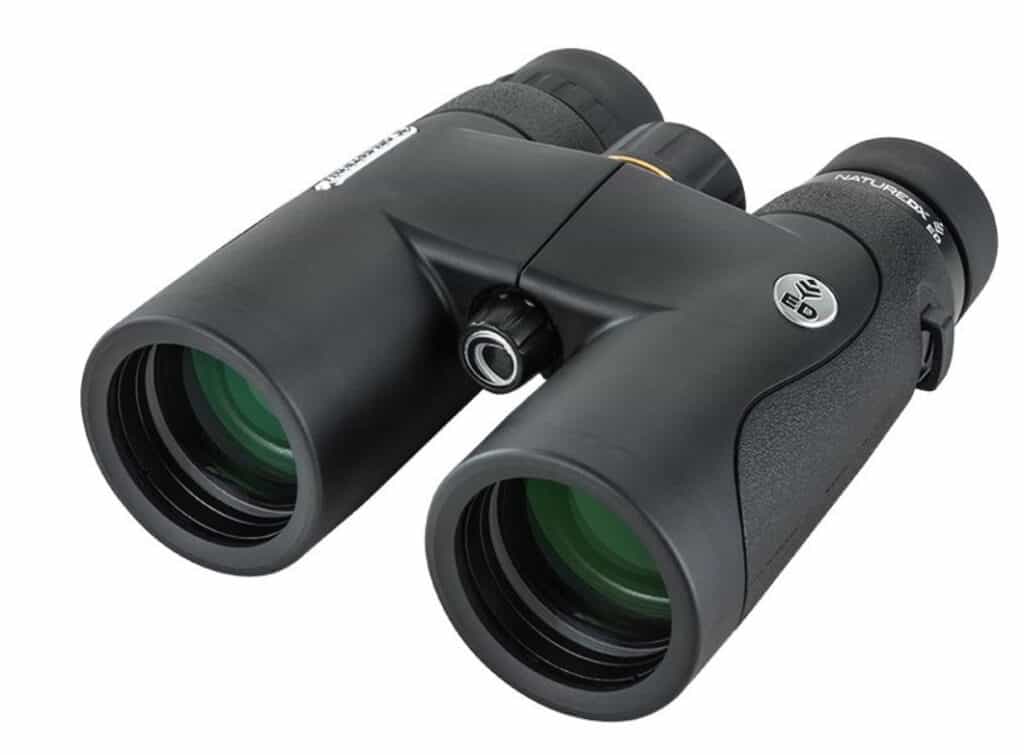 | | |
| --- | --- |
| Optics | Full multi-coating of optics |
| Objective Lens | 42mm |
| Light Transmission | Not quoted |
| Field of View | 103m (309ft) at 1000m (yds) |
| Close Focus | 2.0m (6.6ft) |
| Weight | 705g (24.9oz) |
| Water / Fog Proof | Yes |
| Warranty | Limited lifetime warranty, non-transferable. Accidental damage not covered. Details available online. |
| Price | USD175 on Amazon.com [top …] |
---
Athlon Optics was established in 2014. It is a US-based optics manufacturer who outsources its products from countries in the Asia Pacific, especially Japan and China. According to trade sources their performance, quality, and warranty for Athlon binoculars are comparable with the premium brands, but at more competitive pricing. Claim to gather maximum light and produce brilliant color fidelity. Not much information yet on established review sites. Magnesium alloy housing with rubber armour cover for protection. Very strong warranty coverage.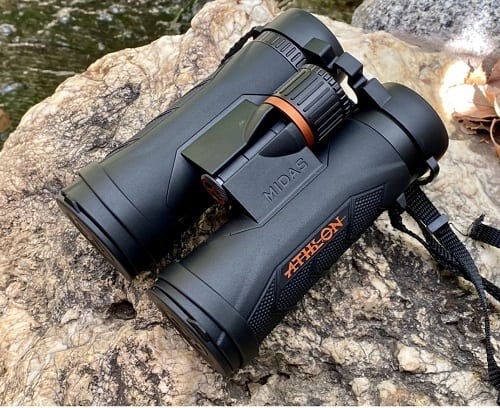 | | |
| --- | --- |
| Optics | Fully multi-coated optics and prisms |
| Objective Lens | 42mm |
| Light Transmission | Quoted as 'maximum'. This will not be 100%. |
| Field of View | 115m (341ft) at 1000m (yds) |
| Close Focus | 2.5m (8.2ft) |
| Weight | 660g (24.9oz) |
| Water / Fog Proof | Yes |
| Warranty | Transferable Athon Lifetime Warranty. No registration or receipt required. Would appear to cover accidental damage too, but check to make sure. |
| Price | USD388 on Amazon.com [top …] |
---
As a fun addition to this comparative post I'm including my old Leitz Metzler Trinovid 10×40 binoculars. I've had it since about 1980. I didn't buy it new, but from a commercial pilot friend who had hit hard times and needed some quick cash. It was a bargain, has great memories and an interesting history. To me it's worth much more than it's current monetary value after all these years.
It appears to have been made at Optische Werke Ernst Leitz in Wetzlar, Germany round about 1960. Optische Werke Ernst Leitz is the forerunner to the current highly-regarded Leica brand.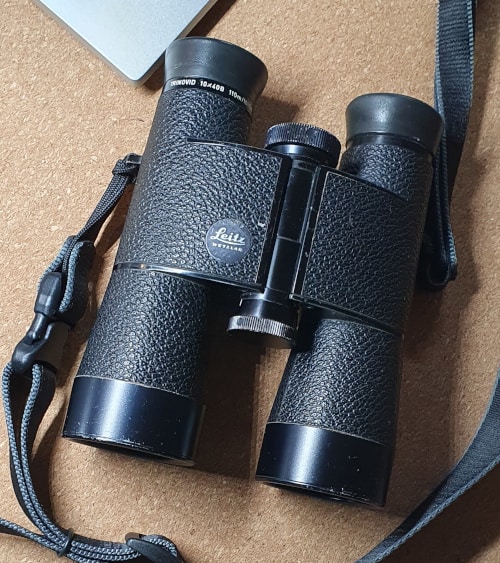 The binoculars still work very well, but obviously would not have modern glass composition and optics coating technologies. Hence image brightness and colour quality will not be able to compete with what is available today. It weighs in at 624g (220z). But it is still very good.
I might trade it for either the Leica or Zeiss models discussed above without too much deliberation. But I would have a hard time deciding to swap it for my preferred model here, the SIG Sauer Zulu 7 10X42 HDX, though I probably would as it makes sense. I wouldn't swap it for any of the others! Might be time for me to consider buying the SIG Sauer binoculars.
My other pair was a beautiful Pentax 10X50 Porro-prismed model. Unfortunately my Pentax was dropped by a butter-fingered acquaintance. Most annoying, and "Oh, sorry about that!" just didn't hack it. But moving on – this disturbed the optics. The view through one eyepiece became permanently blurred, and effectively junked my lovely Pentax! It does however support the assertion that Porro-prismed binoculars are less sturdy than their roof-prismed counterparts, as I mentioned earlier. Lesson? Guard your precious binoculars jealously from careless handling, regardless of who the handler might be!
Over the years I have enjoyed my binoculars in many viewing scenarios. These included:
game and wildlife spotting
bird spotting both in the wild and on feeders in my back yard
target spotting while target shooting
occasional moon and star gazing
trail marker and land mark spotting while hiking
which is the range of experience to make judgments for my choice of the best compact binoculars. [top …]
Finally
Choose wisely based on your particular requirements and use cases, and your binoculars can be an enjoyable and illuminating piece of equipment over a lifetime. Do your due diligence. Put in the time to understand the design and technology features that sets good binoculars apart from the cheap mass-produced items. Understand the price-features-value tradeoff. Invest in quality, it will be worth it many times over.
There are other good brands besides those I have covered here, which is based on what I look for in binoculars. Seek out knowledgeable and experienced sales support that helps you buy based on your specific needs and requirements. Avoid being 'sold' something that simply earns the highest commission for the seller. A good starting point is to always ask the question, 'whose interests are the priority here, from what I am hearing'. [top …]
[top …]