5 of the Best Hiking or Walking Apps
Introduction To Hiking Apps
We are all about advocating and promoting good health and a healthy lifestyle here. Hiking and walking are major contributors to that. So let's look at some easy and very affordable technology, via 5 of the best hiking or walking apps, that helps us with our outdoor adventures. Technology that we can carry with us in our pockets in the form of apps on our smartphones. These apps are a great tool to help with planning a day hiking trip, for example.
There are many hiking apps, or walking apps, out there. Different apps prioritise different outdoor activities. But hiking and walking feature strongly on all that we've looked at so far. The level of detail and information provided by the apps is truly amazing.
List of 5 of the Best Hiking Apps or Walking Apps
Let's look at five such apps that are arguably leaders of the pack, those being:
Our Top Hiking App Choice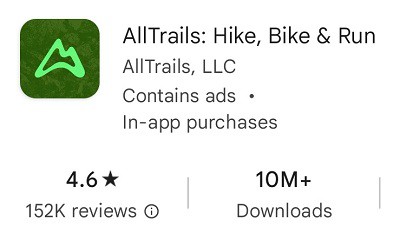 Our choice of the most suitable for our trail hiking requirements is the AllTrails app. We explain our selection in a little more detail below.
Hiking Apps – Form & Subscriptions
These apps come in a form that can be used on both smartphone and laptop or desktop computer. If we wish, the planning, trail selection, etc. can be carried out on the computer, with the smartphone app being used for the actual trail navigation in the field. The recorded trail can be uploaded from the app to our hiking app profile. We could also consider building a list of trails in our own area that local clubs or walkers and hikers visiting our area would find very helpful.
The website Help section for each app provides great information on all its features and capabilities. It's worth spending some time going through this before making a choice on which app and which version, free or premium, to select for your purposes. The apps also provide limited timespan free trials of their premium versions.
Let's also add that there are free, cut-down, versions of these apps available. It's up to the individual to decide if the 'free' versions meet their requirements. However, our opinion is that the value offered by the premium versions vastly exceeds the more-than-affordable annual subscriptions, which can be as low as €10.
There are teams of talented technologists and contributors behind these apps. It is only reasonable for them to expect some financial compensation for their work, as we all would. In general the maxim 'you get what you pay for' applies. Hence this article focuses on the paid versions.
Some of the apps have a simple subscription structure, and some are more complex. We'll touch on those points below.
Online Reviews of Trail Apps
There is a plethora of websites covering reviews of trail apps of all types. Almost all these reviews, if not all, are US-based and hence focus on the US outdoors. Nothing I've seen so far gives an indication of which app is most popular in which part of the world.
Hence we'll also attempt to address the popularity of the different apps in a range of different countries. We've included tables later in the article to help with that.
Now let's look at the apps we've listed.
The 5 Best Hiking or Walking Apps
Common Features in 5 of the Best Hiking or Walking Apps
Since these apps are all aimed at people who spend time in the outdoors, obviously they will have many features in common.
Such features-in-common include:
In-app maps of trails
Searching and filtering of trails in a particular locality
Navigating, recording, uploading and sharing trails we hike
Making a review of trails we hike
Offline maps – Internet connection not needed to follow a trail (not available on free versions)
Create our own routes
Live tracking (explained later, not available on free versions)
Lists of favourite trails and 'following' favourite members
Recorded trail statistics, such as distance, grading, time taken, elevation gain/loss, etc.
Driving directions on Google Maps to the trailheads
Shared photos at points of interest on trails
Now let's briefly look at the individual apps.
AllTrails

The AllTrails trail database is built around 'curated' trails, or what they consider verified routes. Users can submit their recorded routes for verification by moderators and if they meet standards can be added to the curated trails database.
AllTrails claim 400k+ curated trails on their app, and a community of 45 million 'fellow-explorers'. Presumably this is world-wide.
When we open the app on our smartphone we can enter a city or area in the search bar. Trails in the locality then show up as icons on the map. Details of each trail can be seen by tapping on the icon.
There are other ways of searching for trails too, as explained on the AllTrails website.
The premium app is called AllTrails+ and the annual subscription is €30.
Komoot

Certainly hiking and walking do feature, but there are a lot of cycling and cyclist images front and centre on the Komoot website. This may indicate a more cycle-centric than hiking or walking-centric focus for the app.
They indicate 'ready-built routes' in their app. But they make no claims about the volume of trails in their database. If we zoom in on hiking in the same map area as we did for AllTrails above, northern Portugal where we live, far fewer trails show up on the map.
This may mean Komoot is more popular in other areas of the world, and we will have a look at that possibility a little later.
They also claim superior topological detail in their mapping, and detailed terrain and landscape data, to improve accuracy for planning adventures.
An interesting feature on the Komoot app is voice-navigation, which would seem very handy for cyclists. It should allow them to keep their eyes on the trail rather than a smartphone screen. Much safer.
Komoot app and map subscriptions are quite complicated and not easy to find the details. It seems the best place to look is on their Help>Payments & Refunds page.
Their premium app subscription is $60 per annum. You get a free map 'Region' with that. But you need to buy other regions if you need them, at a 1-time cost of $4 per region, or a region 'pack' for $9. A World-Pack map has a 1-time cost of $30.
Wikiloc

The idea behind the Wikiloc app is trails recorded and shared by members across every kind of outdoor activity imaginable. I've used Wikiloc a lot for hiking here in Portugal and it works fine. It does all the things one would expect from an outdoor trail app.
They quote some big numbers, such as 40+ million outdoor trails and 11+ million members. Ok, but not my idea of a balanced pitch as from what I've seen many of the shared trails are just strolls of a few km around particular neighbourhoods. So if I were them I'd give those big banner headlines a rest and find some other more balanced, more informed headline.
There is also a section on Best Birdwatching Trails in Ireland, for example, with just one trail listed. I know for a fact that there would be many dozens of such trails in Ireland as I've been on some of them. This may be a pattern for many sections across such a broad spectrum. But I guess it depends on what one is looking for as one can 'follow' members of particular interest.
Another thing we found was, if it has been some time (in years) since a trail was originally shared, sometimes the trail is overgrown and not easily walkable. So make sure the share-date is fairly current. It's also a reason curated trails, rather than member-shared trails might be a better option.
But in general it is a very good app for hiking and walking and is fairly intuitive to operate.
In comparison to the other apps the Wikiloc website has a relatively small footprint, and traffic is more widely dispersed across different countries. But we'll look at all that in a little more detail later.
The annual subscription is €10, which is a pittance for the overall value provided.
Outdooractive

This app was called Viewranger previously. I used it a lot and liked it during my many years hiking in Ireland. At that stage one could buy sections of the in-app large-scale OS Discovery and Adventure maps at a very low price for areas of interest. It worked well.
It seems now they also provide their own precise, high-resolution worldwide vector maps with their unique routing technology. Should be fantastic.
They say their trail database works on the basis of over 1 million Premium routes and content from outdoor experts. And catering for hikers, mountaineers, bikers, explorers, families – pretty much all lovers of the outdoors.
There are two premium versions, called Pro andPro+ in addition to the free version. One can look at the full feature comparisons [here].
I find the feature explanations on Outdooractive somewhat more direct. They are less laced with buzzwords, loose terms and jargon that could be interpreted any which way (pandemic in the technogeek world) than many of the other apps – helpful and practical.
The Pro subscription is $34 per annum, and the Pro+ is $68.
GaiaGPS

Overall this seems to be one of the newer apps in the heavyweight outdoor adventure app league, taking both number of app downloads and website footprint into account.
Their plans are on the Home page of their website – a welcome up-front disclosure rather than trying to obfuscate subscriptions behind layers of information. Apart from the free app, there are two paid plans, Premium and Premium Outside+.
I'm sure there are some features differentiating GaiaGPS for the other apps in the same space. Probably if one uses the apps for an extended period nuanced differences may emerge. But it is difficult to see any truly game-changers from the broader market for such apps.
At the date of writing the Premium plan is $40 per annum, and the Premium Outside+ at a special price of $45 and normally $60 per annum.
With that, let's see how our 5 of the best hiking of walking apps stack up on some Internet metrics.
Hiking or Walking Apps Internet Profile
Since these are primarily smartphone apps, let's look at app downloads and review statistics first. We'll use the global figures from the Google Play Store for Android versions. Apple iPhone figures have not been included as we're not iPhone users. We don't have access to tools to break the figures down by country.
| | | | | |
| --- | --- | --- | --- | --- |
| Rank | App | Downloads | Reviews | Stars / 5 |
| 1 | AllTrails | 10M+ | 150K | 4.7 |
| 2 | Komoot | 10M+ | 266K | 4.6 |
| 3 | Wikiloc | 5M+ | 74K | 4.5 |
| 4 | Outdooractive | 1M+ | 30K | 4.3 |
| 5 | GaiaGPS | 1M+ | 12K | 4.2 |
Then we'll look at the website traffic footprints. Bearing in mind these stats were taken at the date of writing and will change to some extent week on week. So they should be seen as indicative only.
It wouldn't be definitive, but it should give an idea of how the app profiles stack up in different countries. We'll take the apps in the same order as above,
App
Search Traffic per month
(estimate)
Top 5 Countries
% of total search
AllTrails
9.9M
USA 60.9%
Canada 14.0%
UK 5.8%
Germany 3.4%
Australia 2.8%
Top 5 Total 86.9%
Komoot
655K
UK 46.3%
Spain 18.3%
USA 8.5%
Poland 3.1%
Italy 3.1%
Top 5 Total 79.3%
Wikiloc
97.9K
USA 15.9%
Canada 13.2%
UK 13.0%
Malaysia 6.0%
U.A.E. 5.8%
Top 5 Total 53.5%
Outdooractive
2.3M
Germany 62.4%
Switzerland 13.7%
Austria 10.0%
Italy 5.3%
France 2.1%
Top 5 Total 93.5%
GaiaGPS
206K
USA 79.2%
Canada 15.0%
Australia 1.4%
Italy 0.7%
UK 0.5%
Top 5 Total 96.8%
Our choice of app being AllTrails is based around it having a great review rating and a lot of traffic in Portugal. This is borne out by the number of trails in Portugal listed on the app. Komoot would also be a viable choice for Portugal.
From the rest we can see that Wikiloc is more international. Although installs are high, web search traffic is low. This might mean that all the activity is in-app and users don't feel the need to go onto the website. It has served us well in the few years we've been using here in Portugal.
Outdooractive is interesting. Not so many installs but very high web traffic. Only an observation, but the Top 5 countries are also big skiing countries, which might explain the somewhat different country and traffic profile to the other apps. More of a niche app it seems.
Clearly, GaiaGPS is very much a niche app and is almost exclusively North America.
Finally
So there we have it, a look at 5 of the best hiking or walking apps. Something for every taste in apps for outdoor activity.
Please remember to have some contingency for the unexpected, and a group is always safer than solo. At least carry a backup battery and cable for your phone, and compass and map of the area, if available. The phone numbers of local emergency services would be very important. It's also important to carry some extra clothing and a torch. Happy hiking!