Home Office Desks, 6 of the Best
Introduction
How great is it to sit down at a great home office desk in a suitable workspace to start a project you're looking forward to. Whether it's writing a book review for your Goodreads page for example, involvement in a learning project, writing a post for your blog, investigating your next investment opportunity, or so many other possibilities. When the design of the desk is good and its size is right so that everything is organised and within easy reach, it sets the scene. Your laptop computer, documents and other items can be laid out conveniently on the surface. It makes for creative and productive working time. There's a great chance the work flow will be smooth with a pleasing outcome.
No better time than the Golden Years, retirement, or even before, to start getting a great workspace all set up and functional. The ideal desk is the key part. For many this will be a time when attention can be turned to new interests and goals. Tapping into the digital transformation trend, learning new skills, maybe writing a book or any of a multitude of possibilities.
The Desk
The centre-piece of an inviting home workspace is an great desk that you feel comfortable sitting at, looks good and blends well with the workspace setting. There are a host of options available, from online vendors, to in-store mass-market options, maybe even to a custom beauty if you want to make the investment. We'll look at some of those too.
One size or design will not fit all in terms of a desk. Being from the Golden Years tribe myself, with strong interests in the lifelong learning, computing projects, blogging and reading spaces, I needed and wanted just such a workspace. My lovely partner has some fairly similar interests. So we aimed for a couple of desks of the same contemporary design that fitted back to back in the particular area were what we wanted. We found a great solution, which is shown below too.
Desk Features
The particular features of a desk are also a personal thing and it would be impossible to cover even most of them. A few of the important features for me were inbuilt storage pedestals that could be set on the right or the left, a wood finish that matched some other furniture in the proximity of our workspace, and a solid, sturdy construction. The size of the work surface is 1400mm x 650mm (55in x 25.5in) which is suitable for my purposes. Any smaller would be disadvantageous for my particular usecase. So features such as these will form part of the comparisons here.
Some Comparisons
I've set out to present and compare five great options below. These have been chosen from a number of vendors or sources and geographic locations. No doubt other possible options will be available in any particular locality. There may even be some talented individuals reading this who have the facilities, skills and equipment to make their own, which would be fantastic! I hope it provides some interesting ideas and a contribution to your plans to create an inspiring and productive setting for creative and entertaining enterprise long into your Golden Years!
This is a custom-made desk by Peter Aleksa of Cherry Brook Woodworks. A magnificent desk made from solid cherry wood with a natural finish. The standard desk work surface is large at 1778mm x 737mm (70in x 29in) and is great if one has the space and setting to accommodate it.
Custom sizes and materials can be accommodated where adaptation is needed. Storage drawer pedestals on both sides. The photo indicates a particular configuration of drawers in the pedestals, which no doubt can be changed to specific customer requirements. If well looked after, a beautiful piece of custom furniture like this will have long-term durability and value as well as aesthetic appeal. Price on quotation based on customer specifications.
This is a mass-produced L-Shaped desk from manufactured wood with a rustic finish. Assembly is required. The design is not customisable, but is available with the filing drawer unit on the left or on the right. This is a large desk with significant in-built storage. The work surface excluding the side unit is 1600mm x 790mm (63in x 31in).
Taking the L-shape and side unit into account, the floor space required, excluding any clearance and convenient access, is 1825mm x 1400mm (72in x 55in). While visually attractive and with a much lower price, durability and long-term value may be much less than well constructed desks of solid wood. Published price is currently GBP380.
The description says Belgium Grey Oak 'finish' without clarifying if this is a desk made from solid oak wood, or is a particleboard or MDF base with a Belgian Grey oak veneer. So this would be one point to check before any purchase as clearly solid oak wood is far more desirable, durable and valuable than manufactured wood.
However, it has a very attractive classic style and the work surface size is generous at 1400mm x 700mm (55in x 27.5in). Plenty wide and deep for uncluttered work. The two pedestals also provide good in-built storage. There are three drawers on each side, the bottom drawer being a suspended file drawer, providing great storage and filing flexibility. The description says the top is protected by a Rimini Nero Black leather insert. However, there is an unprotected wood border all around the leather, so it's perhaps a styling feature than functional. But it does look good. Price is currently listed at GBP1388. If one wanted a bigger desk (1600mm x 800mm) in the same style, but made from dark American walnut wood, this is listed at GBP1399.
I will put this model in for comparison purposes, and it is a beautiful piece of craftmanship made from solid oak wood. It is listed as a computer desk with work surface dimensions 1510mm x 500mm (59.5in x 19.8in). While it may be fine for a slim stand-alone monitor and keyboard, I feel it is not deep enough as a general purpose desk. For example, I like to position two LED desk lamps further back on my desktop.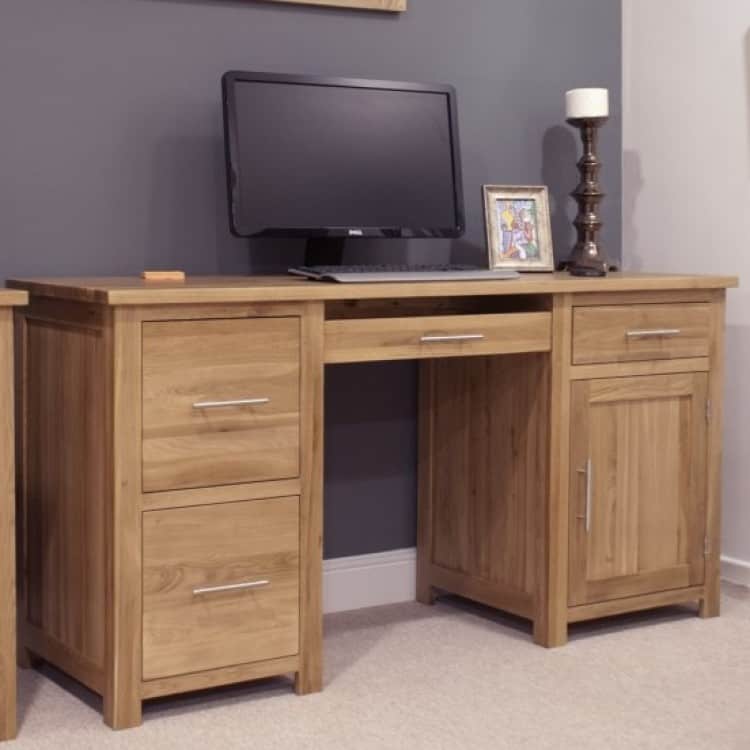 I usually put one each side of my laptop, so that light is coming from the correct angle on each side of the laptop to provide good lighting for the keyboard plus any paperwork on either side I'm using. But some people may find this desk perfect for their requirements. The price is currently listed as GBP718.00, discounted from GBP933.40.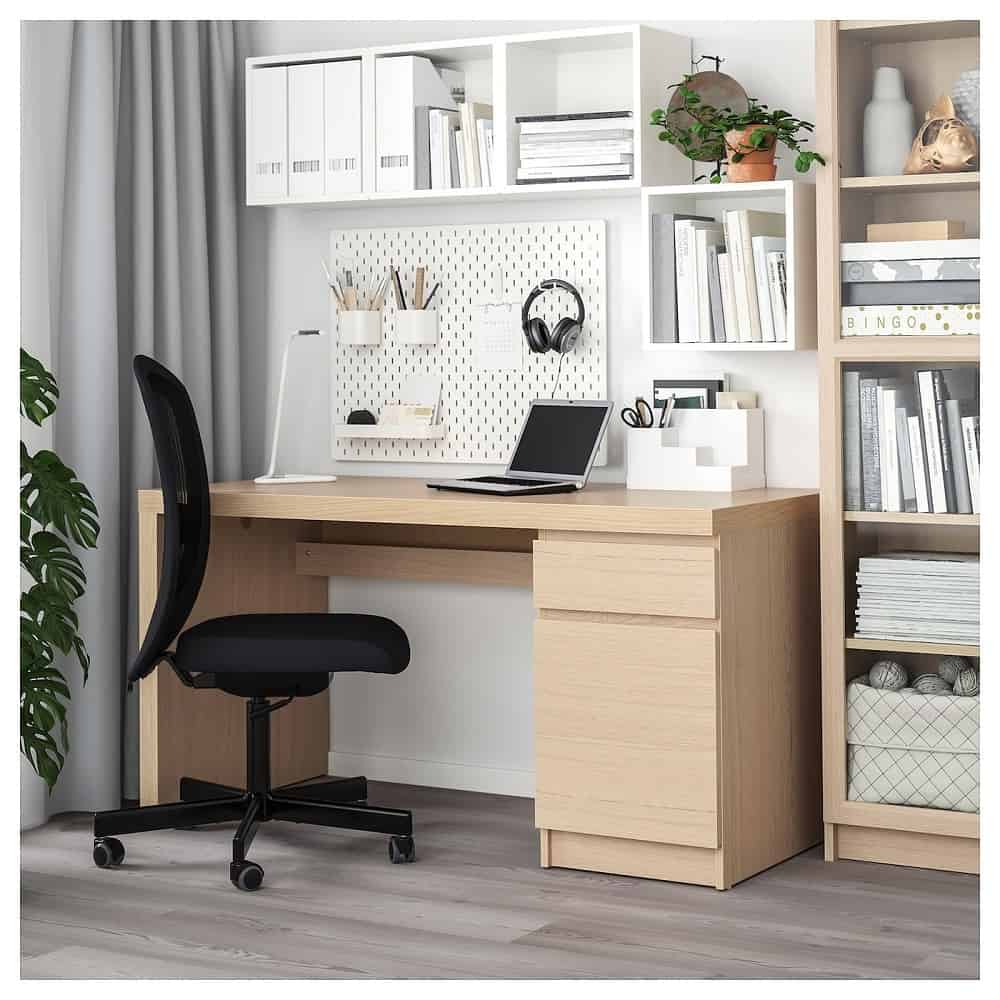 The description calls this a clean design with oak veneer. It must be assembled and the in-built storage pedestal can be mounted on the left or the right. The size of the desk is 1400mm x 650mm (55in x 27.5in) which provides a generous work area. The top and non-pedestal side have a substantial thickness and hence this is quite a sturdy desk and well designed, even if not made from solid wood.
However, it should be noted that solid wood will generally be stronger and more durable, all other things being equal. The one thing that could be improved is the smoothness of the top surface, to make dusting and cleaning easier. A sheet of glass cut to size would be a good solution. There is also a kind of 'channel' at the upper back of the desk, connecting the free side with pedistal unit, which also adds to the overall sturdiness. This is quite useful for holding computer chargers and multi-socket extension leads rather than having them on the floor around the desk. The price of this desk is currently listed at Euro169 and is good value if one has budget constraints.
As an interesting addition to this list, there is an antique furniture restoration operation and showroom called Licht Retro about 15km from our base in northern Portugal. Our old paved railway cycling trail, which we frequent regularly, passes by the back of the building.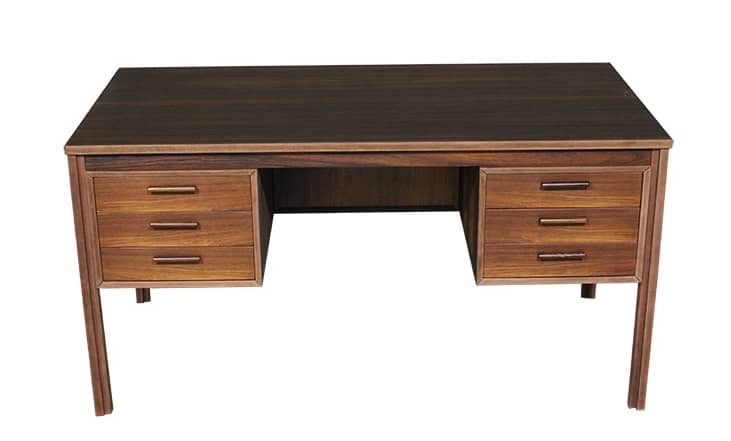 I love woodwork craftmanship so I have stopped in to see their work before. Their craftsmen do beautiful work. I stopped there again recently to see what desks might be on display. They had several beautiful pieces, and I include the Danish rosewood desk here for comparison purposes. The craftmanship is exceptional, the waxed rosewood finish is stunning and it has a 3-drawer pedestal on each side. The dimensions are 1400mm x 700mm (55in x 27.5in) and the price tag reads Euro1800. Materials, workmanship and style of this standard is never going to be cheap. There will always be a select market for craftsmanship and exclusivity.
Rushing out to your largest local department store for a bargain product is one thing. But there's more to choosing such an important piece of furniture as your home office desk. Especially when you plan to spend lots of creative and productive time at your desk. I hope the examples above provide a little inspiration for your search for a perfect home office desk. And especially if it is at the Golden Years or retirement stage of life.
And once you have your beautiful desk all ready, time to get your laptop and apps to work. A great general laptop computer and apps setup is available is a later blog post.