7 Spotlight Attractions in Northern Portugal
Northern Portugal – The Hidden Gem
Northern Portugal has, up to now, avoided mass-tourism. This is a major plus for us as we prefer the authentic Portuguese experience and culture. Porto, Portugal's second-largest city, is an exception and does attract a lot of tourists. Hence we won't be considering Porto here. We will look at just 7 spotlight attractions in northern Portugal, besides its second city. The choices are based on wonderful places we have found and visited during our three years here so far. So what and where might these places have been?
There is an abundance of beautiful landscapes and beaches, magnificent smaller towns and cities rich in history and culture, vineyards aplenty, and delicious traditional cuisine. For this article we will just look at three lovely historical cities and four natural attractions from the wide range available.
Cities
The cities here are more about history, character and style. If pubs, clubs and in general a buzzing nightlife is what you're after, this isn't what these cities are about.
The local people in these cities and northern Portugal in general are very friendly, welcoming and helpful. By modern standards the cities listed are quiet and safe.
Guimarães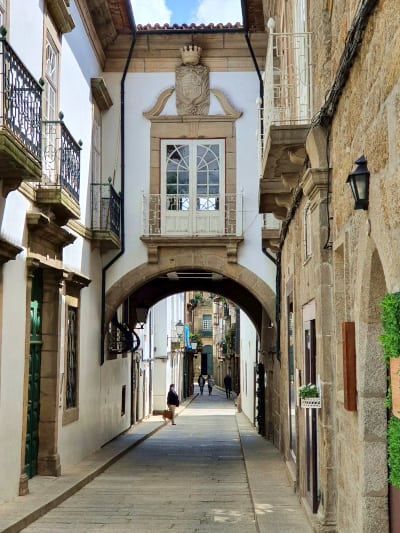 This is such a beautiful, quaint, civilised, safe city. It is full of historical buildings and architecture, narrow cobbled streets and small traditional shops. It has a magnificent castle, churches and museums. Also an important Portuguese university city. If you are looking for elegance, sophistication, style and a wonderful olde worlde ambiance you couldn't ask for a nicer or more interesting place. Local people are very friendly and welcoming. Lots of nice cafes and places to lunch.
There is also a beautiful wooded hill overlooking the city called Penha. There is a café and a church at the top, and loads of fascinating walks amongst the trees and huge rounded moss-covered boulders. There is even a tiny beautiful chapel in the space between a few of these enormous boulders. There is a cable car from the city to the top of the hill, well worth the price of the ticket.
Guimarães is about 55km or a 45 minute car journey from Porto Airport under normal traffic conditions. For detailed information on the city see here.
Braga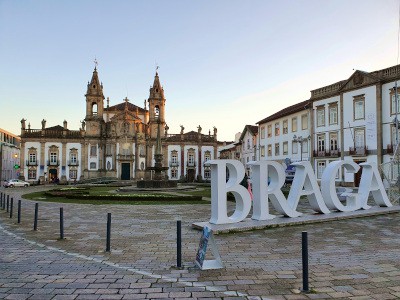 Braga is Portugal's third largest city and is a wonderful place with so much character and charm. Much of the historic city centre is pedestrianised making it easy and relaxing to stroll about as there is so much to explore. They have some marvellous classically elegant cafes, such as A Brasileira and Café Lusitania, matched by the quality of their coffee and scrumptuous pastries. Cafes are a way of life in Portugal, for example to the same extent as pubs in Ireland and the UK. Cafes also serve ice-cold lager, which is great for the hot summer days. But, big plus, boozing for the sake of it isn't a way of life in Portugal. There are better things to do.
As one guide says, churches by the bucket-load, museums and beautiful buildings to explore. The amazing Santuário do Bom Jesus do Monte lies on a hill 5km north east of the city. If opulent architecture isn't your thing, but athletic legs are, this is still the place to go! Santuário do Sameiro close by is another.
Braga is about 55km from Porto airport, about 45 minutes by car.
Ponte De Lima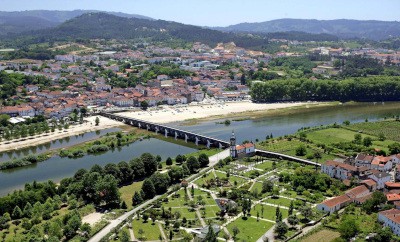 Apparently the oldest town in Portugal, we love this place. One reason is that it was a memorable part of my first Camino Português, and our second Camino together a few years later. Another is that it's such a gorgeous place! And it has regular traditional markets in the centre of the city which are just spectacular and so interesting. The beautiful river Lima runs through the middle of the town, and is traversed by an amazing pedestrianised Roman bridge in the historic town centre. The town has a strong Roman heritage with some interesting legends. The river also has magnificent walkways and cycleways, especially on the south bank, which go on for kilometres and kilometres. If one is in the area, visiting Ponte De Lima should be a priority.
Ponte De Lima is about 85km from Porto airport, a 1 hour drive by car.
Natural Attractions
We've been here more than three years now. Apart from the cities and towns, the list of natural attractions in northern Portugal we want to see just keeps growing.
During the summer months the coastal towns and beaches in this area can become busy, mostly with Portuguese people. Those from the interior traditionally spend their holidays by the coast. However, in our experience it never becomes rowdy, as it does in Ireland and the UK for example, which often becomes bolshy and unpleasant. The naturally relaxed and courteous Portuguese disposition in general makes it a pleasure, if the crowds are not a factor.
However, it's easy to escape the crowds if one knows where to go, and it doesn't have to be far. For example, we've often walked beautiful 15km+ trails over very fine weekends close to major towns without meeting a soul all the way.
Now on with a few of those attractions.
Beaches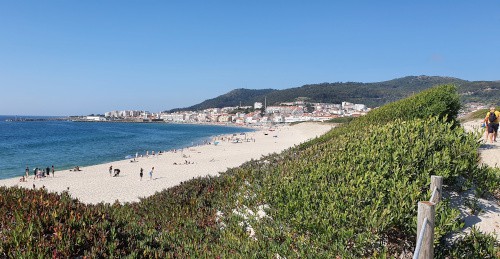 There are so many wonderful beaches, and coastal boardwalks (called 'passadiços' locally), all the way north from Porto. These stretch to the Spanish border at Caminha, also a beautiful town.
We are so fortunate to be located about 200 metres from a very picturesque series of beaches stretching from Vila Do Conde to the south, and north to about Apúlia. So we have a huge choice. Even in the holiday months, if one knows where to to, the beaches are not crowded. The photo above is Âncora beach, which we took in the height of summer, just south of Caminha. Lots of space!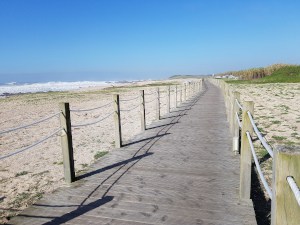 Just a few points about the Portuguese coast, apart from the fact it's a great place to learn to surf!
First of all due to its latitude the beaches of northern Portugal can be enjoyed from about late March until late October or so. Of course intermittent poor weather will steal some of that back. But equally there will be some beautiful spells of weather outside the March – October range. During the school holiday months of July and August the beaches can be quite busy, but still very civilised. Outside that, we almost have the place to ourselves!
Next, since Portugal faces the wild Atlantic, it's vital to be very careful around the waterline and while swimming as the waves can be high and powerful. The beaches also slope away quickly in many places. Use designated swimming areas attended by life guards. The water can also be a tad chilly for those who only swim in bathwater. Due to the ferocity of the Atlantic for quite a few months of the year, the sand on most beaches that we're aware of is fairly coarse. However, it's still wonderful to lie on sunbathing!
Cycleways
Cycleways are called Ecovias in Portugal, and apart from cycling, they are also great paths for walking. There are tons of them all over northern Portugal and the rest of the country. We love cycling and been on quite a few. They are absolutely world-class, and cycling is big in Portugal.
Ecovia Póvoa de Varzim – Famalicão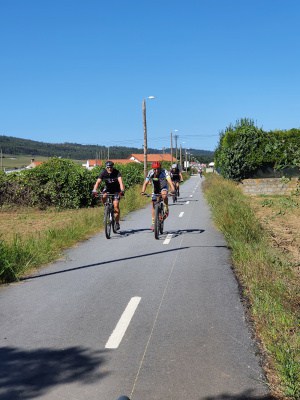 We have the Ecovia Póvoa de Varzim – Famalicão right on our doorstep. It's 30km one way, through lovely rural countryside and some small villages. Our favourite is Fontainhas and the Pão Doce Do Lago café for the best coffee and pasteis de nata in the whole of Portugal, without question.
The Póvoa de Varzim – Famalicão cycleway is very much part of our lives and exercise routine – we must have done the Fontainhas run and back, a round trip of 34km, more than 100 times over the past few years. It never loses its appeal, with the changing seasons, rural agricultural activity, alongside small holdings with chickens, animals, etc.
Ecovia do Rio Lima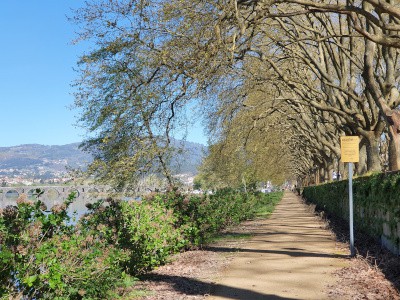 This ecovia is along by the south bank of the river Lima and is also just mesmerising. It is immaculate, and as Tania said, "I'm scared I'll wake up and discover I was just dreaming!". Says it all. We did the stretch from Candeias to the west, east to and through Ponte De Lima and maybe another 10km on the north bank of the Lima. Stunning.
Ecopista do Rio Minho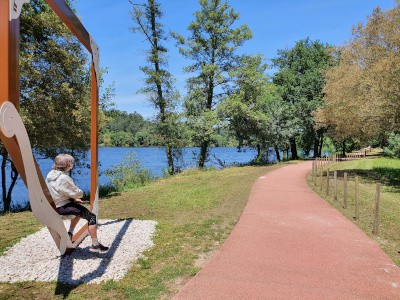 I'll mention one other of the many. It is an ecovia along the south bank of the river Minho, between Portugal and Spain. We have done it in two stages, the first from Vila Nova De Cerveira to Valença, and the second from Valença to Monção at a later date. Words can't do it justice. And if one spends any reasonable time at all in northern Portugal, Vila Nova De Cerveira, the historic fort and centre of Valença, and beautiful Monção are must-visits. Maybe I should write about those later.
Peneda-Gerês National Park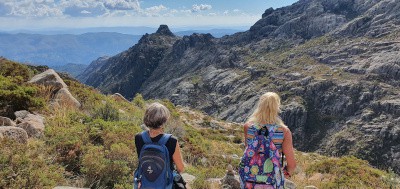 This wonderful national park is almost a wilderness and less than two hours drive from Porto airport. It is in the extreme north east of Portugal, against the Spanish border. But there are quite a few tiny, remote, villages and it is puzzling how the relatively few people in those parts can live in such a remote location, especially in winter. The scenery is breathtaking. There are countless trails, waterfalls and many deep, crystal-clear, rock pools where one can swim, if one has the courage, in the very cold mountain water.
Rock Pools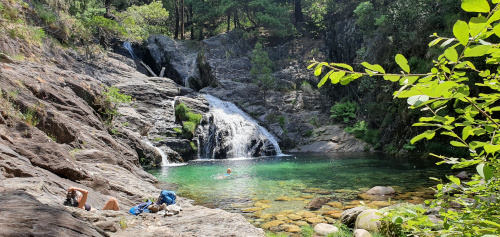 These have to be covered in their own right as there are many and they are so attractive and beautiful, especially during the hot summer days. The water is normally deep, crystal-clear, and very cold.
We have two such rock pools within less than an hour's drive.
One is called Cascata Do Pincho in Serra d'Arga (photo above), a little east of Viana Do Castelo. If one is prepared to scramble a bit, there are other equally beautiful pools a little further back from the main pool. The other is Poço Negro (on the Rio Âncora) which many people have recommended and we haven't visited yet. Hopefully within weeks rather than months.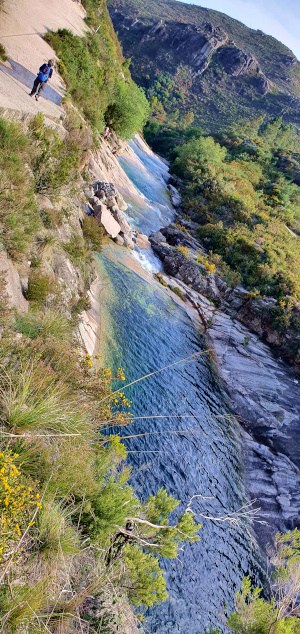 The last rockpools I want to mention is 7 Lagoas Gerês (Xertelo) which we passed while hiking a trail in the area. It is a spectacular series of rock pools, and it seems more than seven as indicated by the name. They are like huge basins smoothed out of light-coloured rock with crystal-clear water cascading through them.
My photo doesn't do them justice. Rather have a look on Google or Instagram for some great photos. They are about 120km or most of a two hour drive from Porto airport.
Finally
Just a few aspects which may help orientate visitors to the area.
Languages
English is not widely spoken in northern Portugal, even in the cities. French is probably a more popular second language, at least in the adult population. This is mostly due to significant emigration to France over the years for work purposes. For expats this means it's important to get to grips with the language – and it's not easy, at least for me. English is more popular in the younger population, but by no means widespread. Trying to learn Portuguese is good fun, takes time and persistence, and the locals appreciate the effort.
Travel and Accommodation
If one has flexibility, low cost airlines such as EasyJet or Ryanair offer excellent value from dozens of European locations into Porto airport. This is a top class international airport, the best in my experience over many decades of short and long haul travel.
Car hire at Porto airport is very reasonable compared with other countires. For example through the EasyJet website it's currently possible to hire a compact 5-seat car for 4 days for around €60 excluding any extra insurance coverage (mid-June 2023). Holiday season (July and August) would be higher of course.
Hotels in northern Portugal are inexpensive and excellent value compared with most high-tourism destinations. Use a source such as booking.com for current pricing but a recent check seemed to indicate a double room at a 4-star hotel for less than €100 per night, depending on location.
Google Maps can provide exact location of attractions, etc. A trail app such as Wikiloc is recommended if one plans to do any walking or hiking around the natural attraction areas.
Map Northern Portugal
A shared and downloadable Map Northern Portugal PDF file is available here.